Interview with world champion Mona Nørgaard
»I hope for a place in the better part of the a-final«
Posted by Resi Rathmann on April 17, 2012
The Danish orienteer travels together with her husband Flemming Nørgaard in the first week of July to the World Masters Orienteering Championships 2012 in Bad Harzburg. Mona Nørgaard won the Individual World Orienteering Championships in Denmark (Silkeborg) 1974. We have asked Mona Nørgaard about her goals and expectations for the WMOC 2012.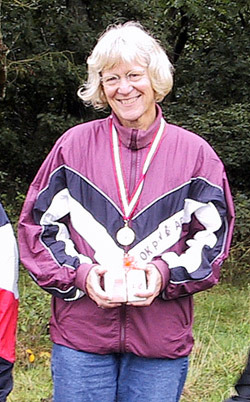 What do you expect from WMOC 2012 in Germany?
I'm looking forward to have a week with exciting competitions and socializing with good friends. I look forward to meet competitors from the old days. And hopefully the Harz Mountains will stand beautiful and sunny.
Do you have certain goals, you want to achieve in the WMOC?
I hope for good runs without to many mistakes and a place in the better part of the a-final.
What do you prefer more from the WMOC program: sprint or long distance?
The sprint is a rather new discipline for me, and I like it very much. But I must say that I prefer long distance.
We will host the senior world championships here in Germany this year. What can you recommend other runners, both professional and hobby orienteers, and spectators?
I'm sure there will be exciting contests to watch while you yourself can try out challenging terrains.
What is for you the most important thing in the organization of such a big orienteering event?
Good maps, challenging courses and beautiful nature.
In 1974 when Danish Orienteering Federation hosted the WOC for the first time, the medals were awarded by Crown Prince Frederik`s mother, HRH Queen Margrethe II. and you won the gold medal in the women´s individual race in Silkeborg. Would you fight once again for the gold medal, but this time at WMOC 2012 in Bad Harzburg?
I will not be able to compete as I did in 1974. My condition will not be good enough to fight for the gold medal due to bad knees, but when I'm in a competition I will always fight for the best possible result.
The most of the participants combine the travel to the Harz Mountains with a little bit sightseeing. Do you have any plans for the WMOC-week?
I don't have special plans for the WMOC-week, but of course I will use the possibility to do sightseeing in the area.
What do you like most on orienteering?
Orienteering is a new challenge every time you start. To get around and experience the orientation of other countries and make friends from around the world is fantastic.
Can you give any message to other competitors of WMOC 2012?
Enjoy the competitions and the nature and have fun with old competitors and good friends.
Thank you very much for this interview!
The interview was held by Resi Rathmann