Interview with local hero Heidrun Finke
»If all goes well I hope to win a medal.«
Posted by Resi Rathmann on May 06, 2012
Heidrun Finke, a well-known name among Germans but also international orienteers is starting at this year's WMOC in category W 55. She is running for OLV Uslar and is familiar with the Harz Mountains but still excited to see how the competition area will look like.
We talked to her about her expectations and goals and her memories of the Harz Mountains: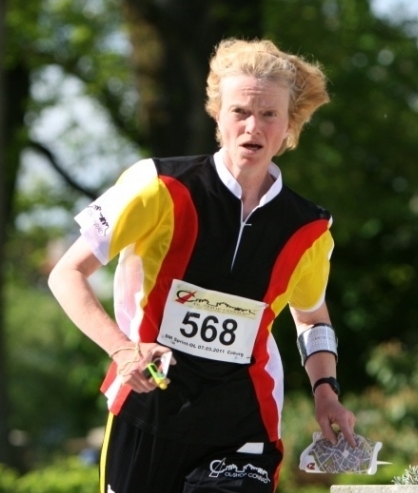 Who introduced you to orienteering and since when do you actively pursuit this sport?
My father brought the "orienteering-virus" into the family and I started at the age of 10 in 1967. Back then we were running in the Higher Harz Mountains with a not very detailed black-and-white map 1:25.000 and sometimes hidden control points. Competitions were rare and the number of participants much lower.
What does a good orienteering event constitute for you?
A good and diversified course on a feasible map. A challenging terrain is always nice but not every organizer is so lucky to have that. For bigger events I think well placed parking and event arenas are important. All events should offer courses for beginners and children.
How do you motivate yourself for the next competition after a race that didn't go so well?
I don't have any problems with that – it's actually just the opposite: after a bad race I am a lot more ambitious and want to prove to myself that I can do better – I am especially motivated then.
*Do you have certain goals you want to achieve at this WMOC? *
I cannot really assess where I am right now as I have always started in younger age groups and categories. But if all goes well I hope to win a medal.
What do you expect from the World Masters in your home country?
I keep my fingers crossed that the organizing committee handles all the challenges a WMOC brings about and no mishaps will occur.
For orienteering in Germany I hope that after this event this sport will become more common in the Harz Mountains and the surrounding region and that it will leave a positive impression with the cities and communes in the area.
And then of course I hope that the participants and guests from all over the world will have a great and eventful week.
?
At the German Championships 2011 here in Bad Harzburg you won the gold medal in age group W 45. How did you handle the terrain in the Harz Mountains?
I made a big mistake in a rocky area. This cannot happen during the WMOC! I like hilly terrain better than long and steep slopes. But in general the German Championships went well for me.
At the WMOC 1999 in Denmark (Aarhus) you won the A-final in category W 40. What kind of memories do you have of that victory?
That was one of my best competitions ever. I was very concentrated and had a good flow. And the terrain really suited me.
Is it possible to have a revival of that in this year's category W 55?
I was on parental leave in 1999 so I was able to do a lot of target-oriented training thanks to my husband and his support. This is not possible anymore nowadays. I'm also not that ambitious anymore.
What do you prefer more from the WMOC program: sprint or long distance?
I prefer long distance although sprint can also be quite interesting. But it has gotten a bit difficult lately to read the sprint maps due to my age-related long-sightedness – you have to recognize little passages faster in order to choose the right tracks. The long distance maps are easier to read, even with fine-o parts.
How do you prepare yourself for the WMOC runs?
I try to do lots of training but my daily routine often upsets my plans. Nowadays orienteering isn't my top priority anymore.
Who do you think are your biggest competitors in your age group W 55?
I saw a couple of names on the starting list that are familiar to me but I'm sure there are other good runners that I do not know. I will find out after the qualification races.
You took part in World Championships both as an athlete but also as a trainer. What is so special about these international orienteering events?
It's always a great atmosphere when people from different countries come together to share their passion and hobby. Then of course it's the international competition that makes it so challenging and the event so exciting. And last but not least you see familiar faces from all over the world.
Is there something that you're really excited about at the WMOC in Bad Harzburg?
I participated in a lot of races in the Harz Mountains and experienced all different kind of terrain.
I am excited to see the competition areas and I am also looking forward to the sprint final in Goslar. I really hope to find some time to look around the old city centre afterwards!
Thank you very much fort his interview!
Interview by Resi Rathmann